How to Create Autumn Wine Pairing to Elevate Your Restaurant Meals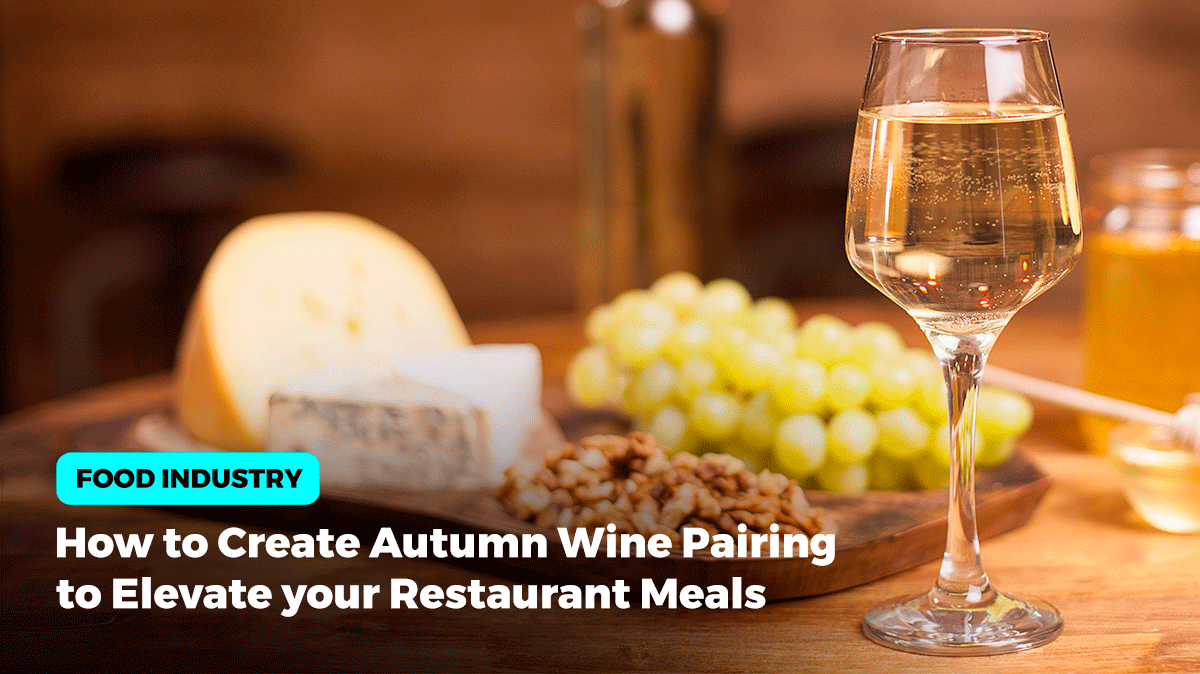 Autumn dining can be one of the most magical experiences. Imagine customers' sentiments when seated at a restaurant table exquisitely decorated with striking autumn decorations. To complete the autumn theme, the table should be decorated with a dark orange tablecloth, a beautiful vase with dried flowers and wood, gold decorations, and miniature pumpkins. There are also candlesticks and, of course, plates with delicious food atop the table.
What will leave your client speechless and create unforgettable moments? A bottle of wine could rock this scenery.
A bottle of wine during dinner can remarkably elevate one's mood and unveil uncharted horizons of taste and enjoyment. However, selecting the perfect wine to enhance customers' dining experiences is not straightforward. It entails skillfully navigating a series of thoughtful inquiries. How well the wine you suggest pairs with the dishes your customers order from the menu will ultimately determine your success. This principle holds even if your customers have already made their choice and you suggest an enticing alternative.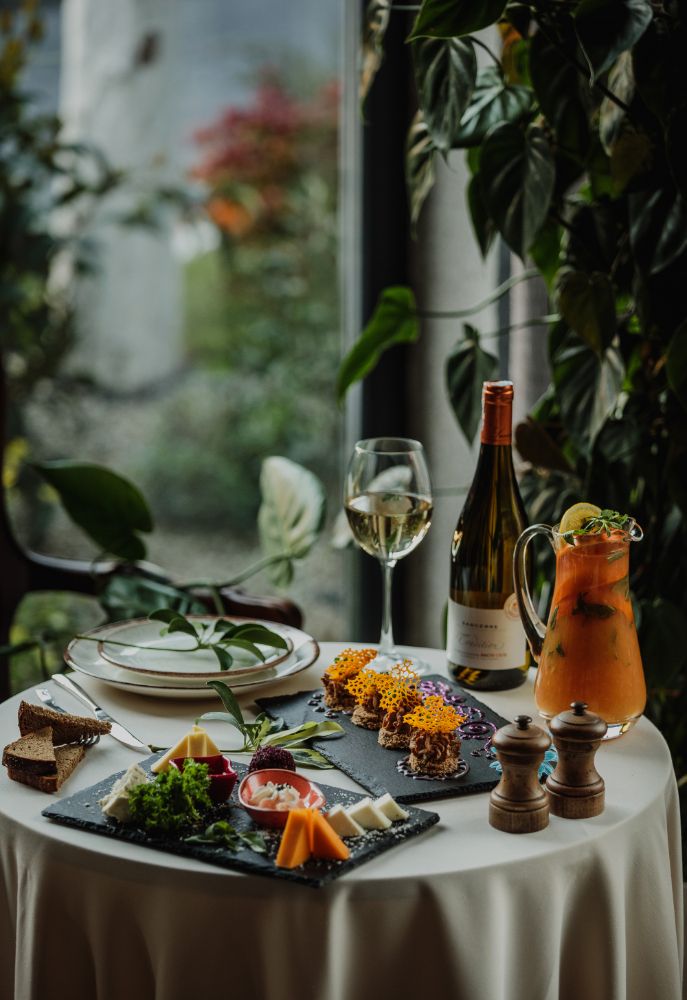 Whether they opt for a Cabernet Sauvignon, Pinot Noir, or a more modest red wine or are uncertain about which wine bottle aligns with their food, valuable wine pairing tips assist them in their final selection. So, autumn wine pairing is now more important than ever!
The Essence of Autumn Dining and Pairing Wine
If we could close our eyes and imagine the flavors and textures of autumn, we would find ourselves in a world reminiscent of earthy flavors, with aromas evoking hints of orange, cinnamon, and pumpkin. As we all know, autumn carries a unique charm, and its flavors are particularly pronounced. Therefore, the wine that stands out as the perfect accompaniment to this season should not only harmonize flawlessly with these characteristics but also elevate them to new heights.
The art of pairing wine with food hinges upon a profound understanding of complementing and contrasting flavors, textures, and characteristics. These fundamental principles can be harnessed effectively to elevate your dining experience, especially when savoring autumn-inspired dishes. Below, we present the key principles and expert tips for pairing wine and food during this season: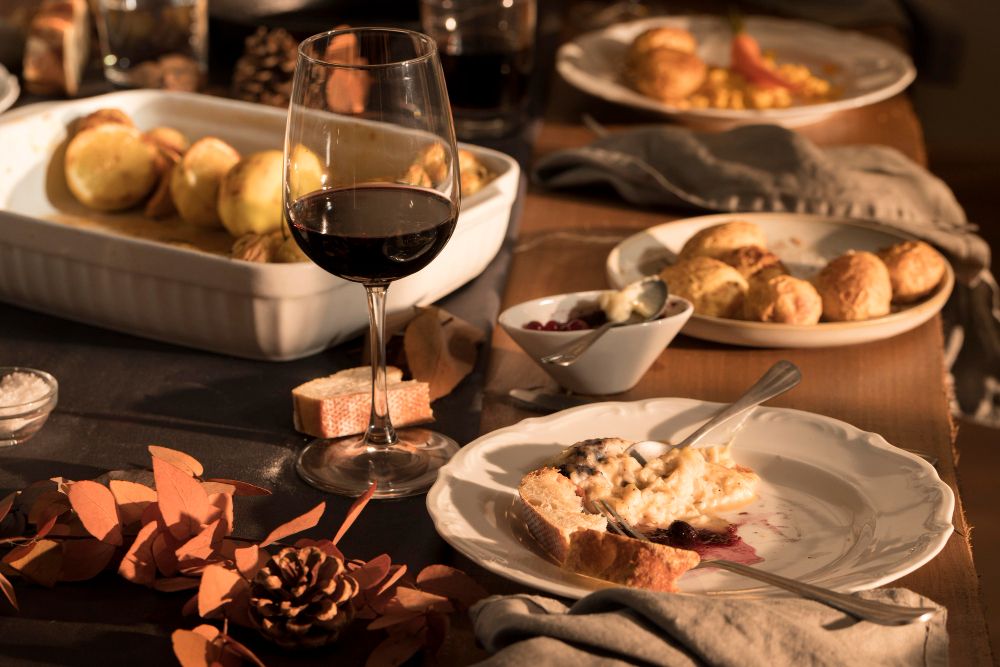 1. Complementing Flavors:
Complementing or Congruent Wine Pairings involves selecting a wine with a flavor profile similar to the dish's. This creates a harmonious pairing by amplifying and enhancing the flavors of the wine and food.
2. Contrasting Flavors:
Contrasting involves choosing a wine that provides a counterpoint to the dish, creating balance and excitement via contrast. Contrasting elements can cut through a dish's richness or add complexity.
3 Wines Amazing to Excel Autumn Flavors
Autumn is full of rich and savory flavors, making it the ideal time to explore all types of wines, including sweet, bold, and even bitter ones that complement the season's delectable dishes. When pairing wines with autumnal flavors, it is crucial to consider the acidity and sweetness balance of the wine and the food to create harmonious combinations. Pairing food with wine is a must, so let's examine some wine styles that pair well with autumn dishes:
Chardonnay is one of the richest and ideal wines for autumn. It is a clear, straw-colored white wine made from Chardonnay grapes with greenish reflections. Despite its dry flavor, it can have fruitier aromas due to the flowers, fresh herbs, and fruits, which are the protagonists in the background of citrus fruit. It pairs well with grilled chicken, fish, salmon, risotto, and creamy soups.
From red wines, Pinot Noir is one of our favorites for autumn, as it is known for its elegance and versatility, with flavors of red berries, earthiness, and mild tannins. Moreover, it has a delicate and rich aroma with a pleasant acidity. It goes perfectly with roast turkey, mushroom-based dishes, salmon, pork tenderloin, and, in general, more smoked meats and salty foods. It's the perfect choice for a Thanksgiving meal.
Zinfandel offers bold fruitiness, often with a hint of spice and pepper, making it suitable for hearty dishes and intense food pairings. Such foods include BBQ ribs, chili, grilled sausages, lamb chops, spicy dishes, and generally smoky flavors.
Wines to pair with Appetizers, Soups, and Desserts: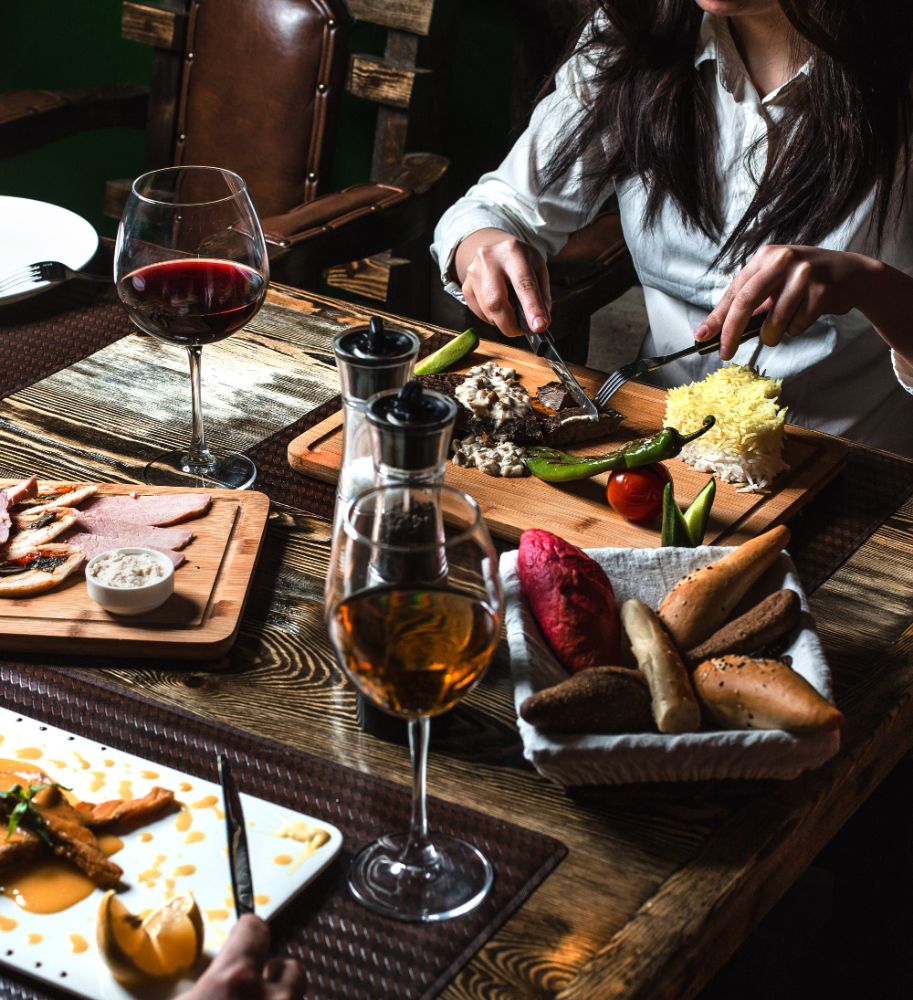 Customers frequently desire to sample various wines with their meals. Therefore, we will provide separate glasses for appetizers, soups, and desserts to facilitate the selection and experience of autumn wine pairings with various plates.
Appetizers:
As an appetite stimulant, we have observed that customers frequently choose wines with lower alcohol and higher acidity for appetizers. Therefore, we recommend sparkling wine such as Prosecco with refreshing and popular appetizers such as bruschetta and Sauvignon Blanc with cheese-based dishes.
Soups:
The wine for autumn's must-try soups can be divided into white and red. Creamy soups generally pair well with full-bodied whites or light reds, while clear broths pair well with lighter whites. Consequently, the first is paired with a rich Chardonnay and the second with a Pinot Grigio.
Desserts:
Dessert wines should be sweeter than the dessert they accompany. Therefore, bitter wines are never an option. A sweet wine is Late Harvest Riesling, but Sauternes, Muscat, and Port are also excellent options. These options are also compatible with sweet food options.
In conclusion, successful wine and food pairing in the fall requires keeping in mind the complementing and contrasting flavor principles, as well as the characteristics of the dish. Choosing the proper wine for the main course, appetizers, soups, and desserts can enhance your autumn dining experience and make your meals more memorable.
What Details Should a Restaurant Consider Regarding Wine Etiquette and Presentation?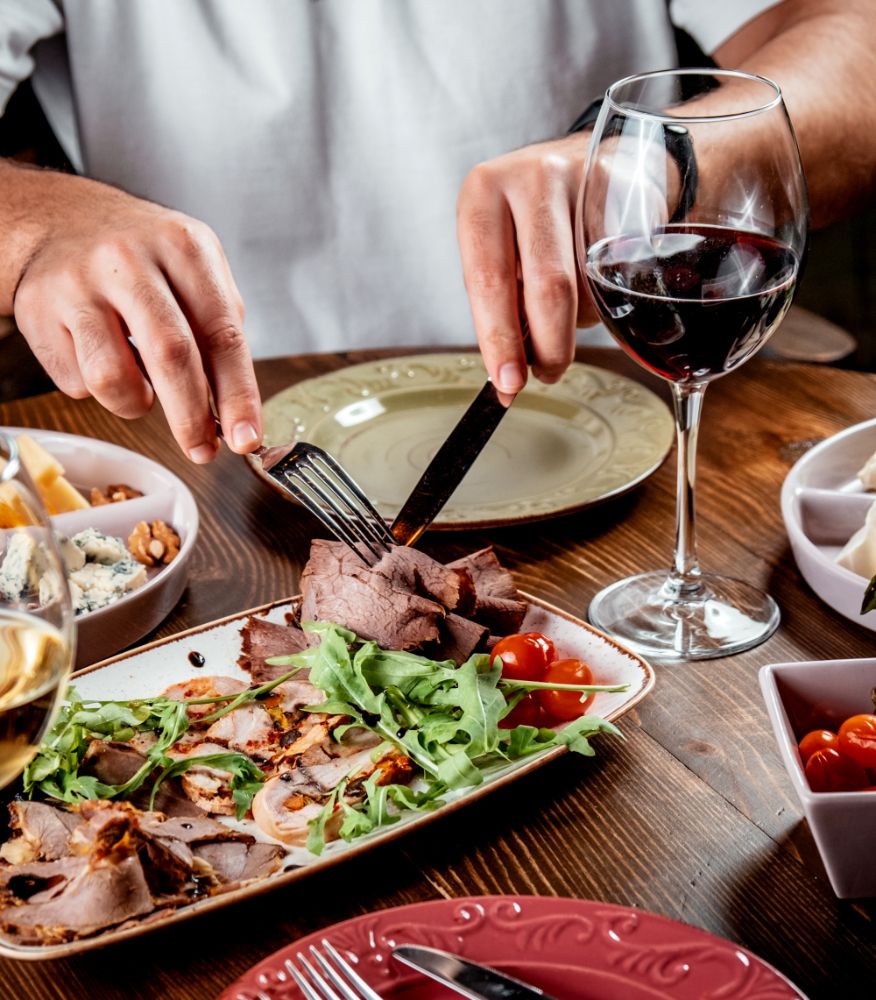 The wines should initially be served at their optimal temperature. White wines are typically served cooler than red wines, while sparkling wines are served even colder. This ensures that the flavors of the wine are emphasized and that the customer will have a unique and tempting experience when tasting it.
After delivering the wine to the table, the waiter should open the bottle in front of the customers and pour a small amount into their glasses so they can sample it. This ensures that the wine is not corked or flawed in any other way. If the customer enjoys the drink, the server will leave it on the table. In addition, each type of wine should be served with the proper glassware. The purpose of these glasses is to enhance the aroma and flavor of the wine.
Proper wine service, glassware, and etiquette can enhance the dining experience in a restaurant setting. Additionally, you should keep in mind to place a wine list at each table that will indicate which flavors and aromas each bottle complements.
Autumn Wine Events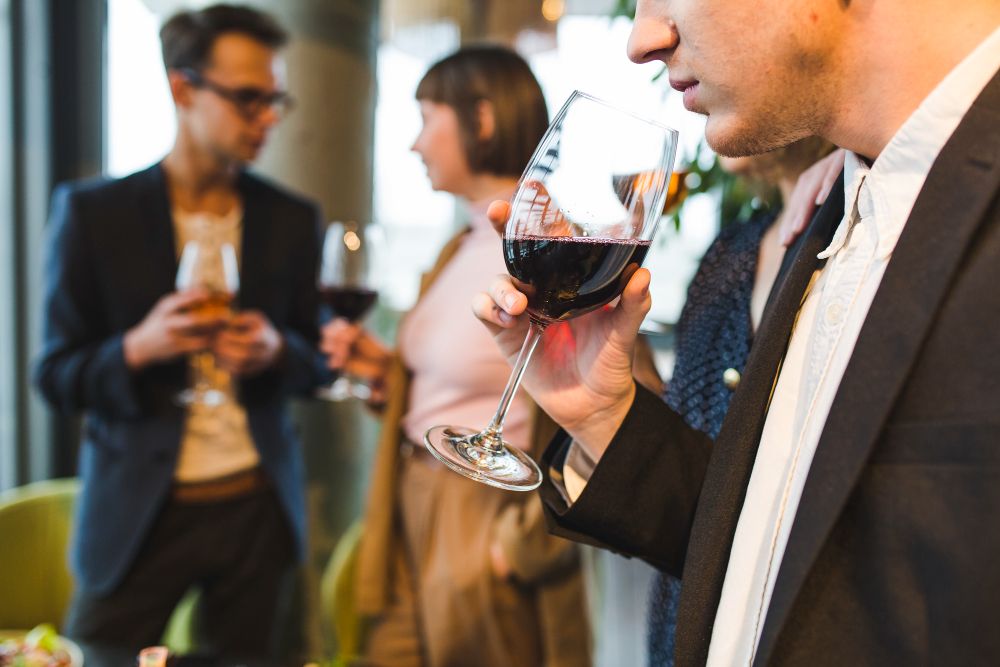 Autumn wine events can be a fantastic idea if you generally like to organize events in your restaurant. A lovely idea would be to host a wine-tasting evening where customers can sample various wines with both salty and sweet dishes. To gain the above mentioned autumnal atmosphere, you can choose additional autumnal options, such as Syrah wine and others, in addition to the above wines. Thus, your customers can enjoy a beautiful autumn wine tasting, experience autumn flavors, as well as the general autumn warmth.
Conclusion
Wine is an essential component of all meals, and wine pairing is one of the most vital processes in a restaurant. Whether your customers choose complementary or contrasting pairings, you can guarantee they will always have a mouthwatering experience under your guidance. Thus, knowing which wine goes well with each food and recommending it is always helpful.
Especially in the autumn, when the flavors we choose for our recipes can be very specific, the right wine can enhance the flavor experience, so making particular and pertinent recommendations is of high importance.
Wine pairing can bring a significant advantage to your restaurant, given that wine is widely regarded as the preferred beverage among a substantial portion of the population. To fully immerse oneself in the study of culinary dishes and their appropriate selection, it is imperative to utilize the Blend app. By doing so, you can delegate automated shift scheduling and task management to the platform, thereby allowing for a greater focus on the intricate details that have the potential to impact the success of your restaurant significantly.