How to Create a Fall Restaurant Decor for a Cozy Atmosphere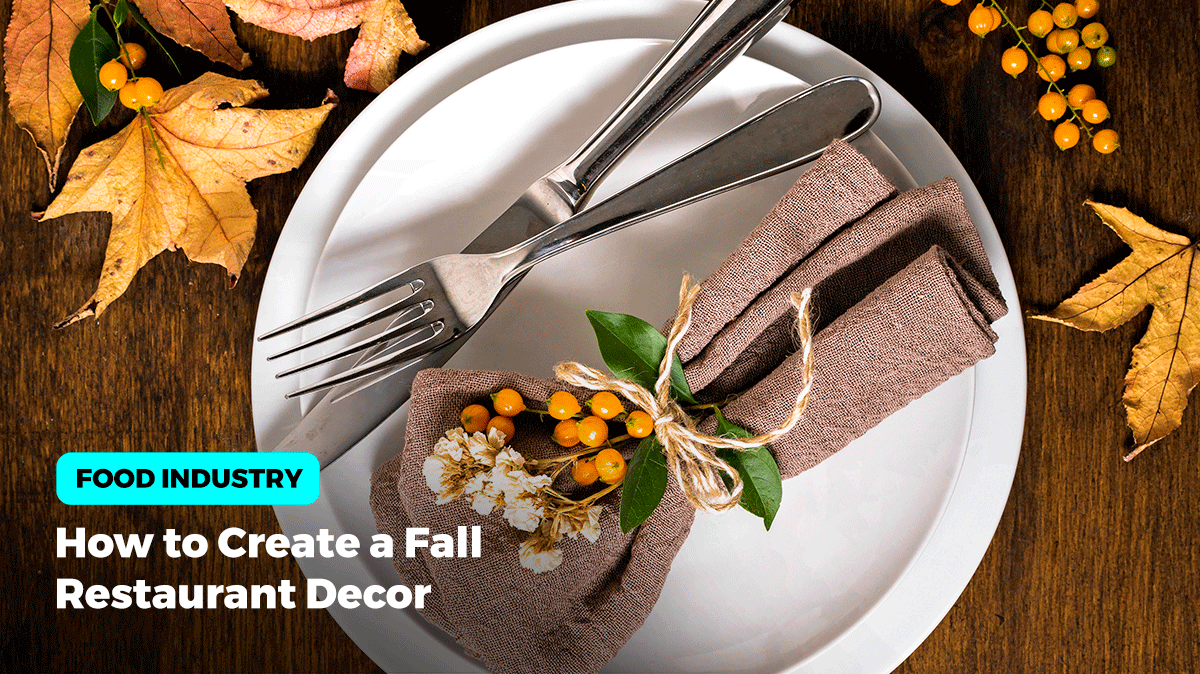 The ambiance and aesthetics of the restaurant play a significant role in setting it apart from competitors and attracting customers. The decor can completely transform the atmosphere and overall environment. Whether it is through significant alterations like repainting walls or changing flooring or through minor adjustments such as updating furniture or rearranging the table layout.
Modifying the spatial layout, incorporating new furnishings, and making other small-scale alterations can be remarkable in crafting a unique ambiance and evoking different emotions within your establishment.
Consider refreshing your restaurant's decor and the prevailing ambiance by embracing autumn-themed decorations. These can complement either seasonal or nature-inspired, to create a cozy and welcoming atmosphere in your restaurant.

The Significance of Adopting a Fall Decor Idea
The defining characteristic of autumn lies in its ability to evoke a sense of warmth and coziness. Autumn-themed decor can infuse this atmosphere into your dining area and overall space. While the specifics of fall decorations can vary based on your preferences, the goal is to create an environment that envelops every visitor in warmth, relaxation, comfort, and coziness.
The essence of your decorating should radiate these emotions, and achieving this ambiance doesn't require drastic changes; a few adjustments can suffice.
Imagine the delight a person would experience when stepping into your business and being instantly enveloped in these emotions. Such an experience can significantly enhance their desire to return, and if the service and cuisine are equally exceptional, ultimately they will leave with a lasting positive impression.
5 Ways to Gain a Fall Decoration in Your Restaurant
Fall Colors and Textures
Incorporating autumn colors can be highly beneficial, whether it's the dining room, main hall, or any area frequented by your clients. When we think of the fall season, the first color that often comes to mind is orange, particularly a rich pumpkin orange, complemented by shades like burnt orange or other muted tones. This fall color scheme can be an excellent choice for your space to add coziness.
Consider using wallpaper on the walls to introduce these colors without the hassle of repainting. You might opt for textured wallpaper to give a fresh dimension to the room and elevate the ambiance.
Beyond the walls, infusing orange elements into the center stage or dining table's decor is worthwhile. The table setting captures your guests' attention and can enhance their overall experience.
Below, you'll discover creative dining table decorating ideas that captivate your guests and infuse the essential autumn vibes into the surroundings.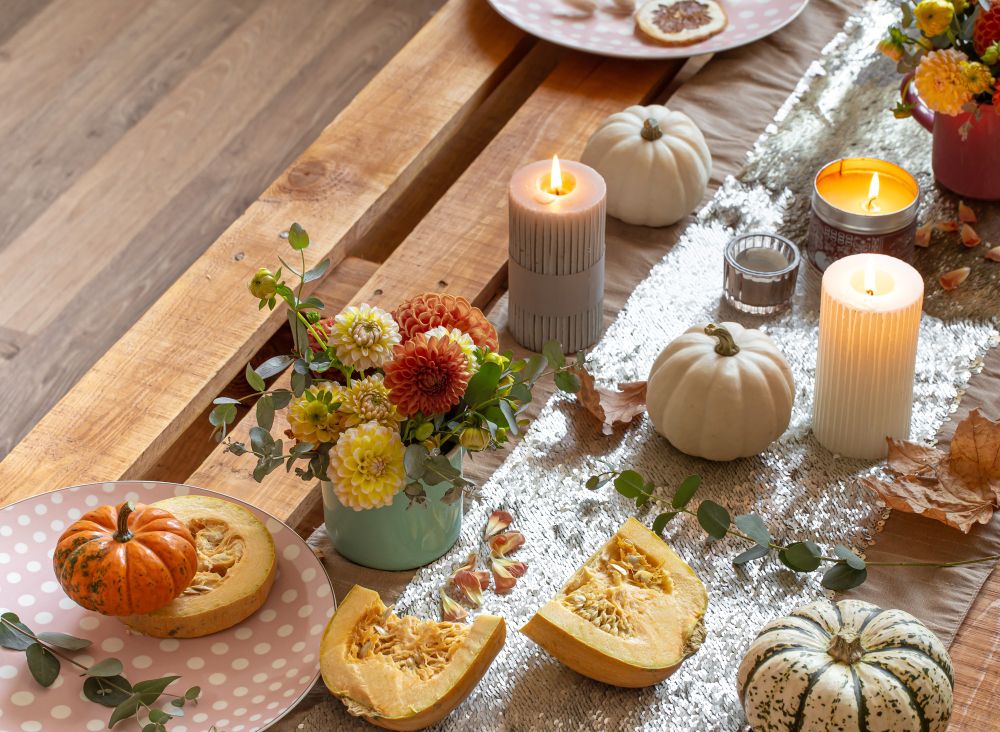 2. Fall-inspired Dining Room Table
The table setting is significant in a restaurant's decor, regardless of whether you have spacious or compact tables. It's crucial to infuse an autumnal essence into every aspect of your table setting to create just the right atmosphere for your guests.
A main symbol of autumn decor is the pumpkin. For smaller tables, opt for adorable mini pumpkins that exude the perfect autumn vibe. Alternatively, consider using faux pumpkins for your decoration needs.
Incorporating natural elements like dried leaves, pumpkins, pinecones, and walnuts can also enrich the colors and textures within your restaurant. Scatter vibrant autumn leaves to complement the earthy colors of the season and blend them with your existing decor. Transforming your fall tables into artistic expressions is another fun option. You can introduce orange ribbons or tablecloths to enhance the ambiance.
Specific decorations are well-suited for restaurant spaces and can be placed above tables, benches, and shelves, making them easily visible to customers.
Additionally, consider creating a special menu featuring autumn ingredients like pumpkin or nut-infused desserts. These seasonal dishes can be exclusively offered during the autumn, adding a unique touch to your restaurant's culinary offerings.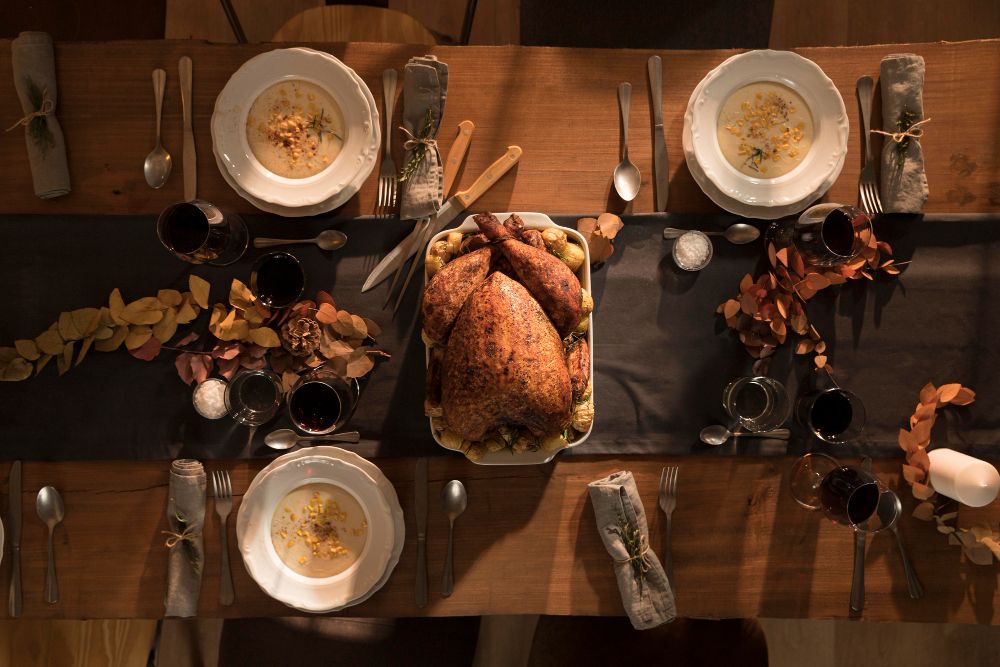 3. Lightning Elements for Fall Decorations
Lighting plays a crucial role in infusing an autumnal ambiance into your space. As we mentioned earlier, autumn is closely associated with the color orange. Therefore, the ideal lighting should have a warm, yellow undertone, complementing the overall decor.
If you're searching for suitable lighting fixtures and techniques, we recommend incorporating string lights to create a genuinely enchanting and autumnal atmosphere. Additionally, consider adding votive candles, candlesticks, and tea lights to enhance your decor and make it even more cozy and warm.
Opt for real candles rather than artificial ones to achieve a more natural and visually appealing result. Fake candles can disrupt the overall aesthetics of the space, so genuine ones are a better choice for maintaining the desired ambiance.
5. Other Fall Centerpiece Ideas
A floral arrangement can be an alternative and impressive table centerpiece for your restaurant's dining room. Wheat and dried grasses or other dried flowers are some of our favorite autumn decorations for your restaurant; consider using these for a rustic and autumnal touch.
In addition to the above, magnolia leaves are an excellent option for a fall table or restaurant decoration. With their glossy green tops and velvety brown undersides, magnolia leaves have a distinct and elegant appearance. They can add a touch of sophistication and an autumnal, natural feel to your interior design.
Chrysanthemums, which come in various hues and are readily available in the fall, are our preferred option if you prefer something more vibrant. They make lovely table centerpieces and can be placed in vases by the front door.
In the meantime, eucalyptus is a unique plant with fall leaves and an intense aroma. Leaves of eucalyptus can add fragrance and texture to floral arrangements; their silver-green color palette pairs well with autumn hues.
Moreover, don't forget to include apples, miniature pumpkins, and white pumpkins. With natural materials, interior design can achieve high sophistication and visual interest.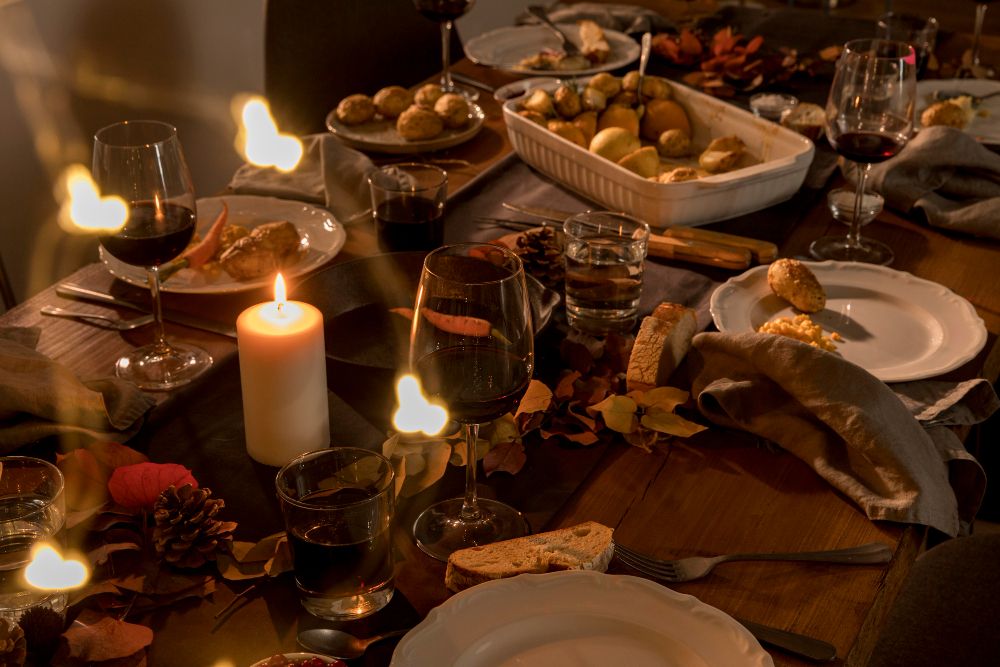 5. Autumn-themed events and celebrations
Adopting autumnal decor indicates your readiness to host enchanting autumn-themed events and celebrations, such as Halloween and Thanksgiving dinner parties. Regarding events, visualize an enchanting autumn dinner party where the season's spirit permeates every detail of the decor.
Delight your guests with a delectable autumn-themed menu emphasizing pumpkin's rich and comforting flavors, such as velvety soups. This cuisine will beautifully complement the already inviting autumn decor, creating a harmonious and inviting environment.
Additionally, consider incorporating themed elements into your autumn decor for festive occasions such as Halloween and Thanksgiving. By smoothly transitioning from your fall decor to your Thanksgiving or holiday decor, you can create an atmosphere that embodies the occasion. This combination of design styles will create the ideal setting for your restaurant, fall entertaining, and autumn celebrations.
Consider incorporating special promotions and incentives into your events to increase their appeal. For example, offer Thanksgiving discounts to families and Halloween discounts to costumed guests. Promoting these offers can attract a larger audience cost-effectively, ensuring that your space is vibrant and lively.
By combining seasonal produce with these thoughtful touches, you'll not only infuse your space with the magic of fall but also create a memorable and inviting setting for your guests to relish in the spirit of the season.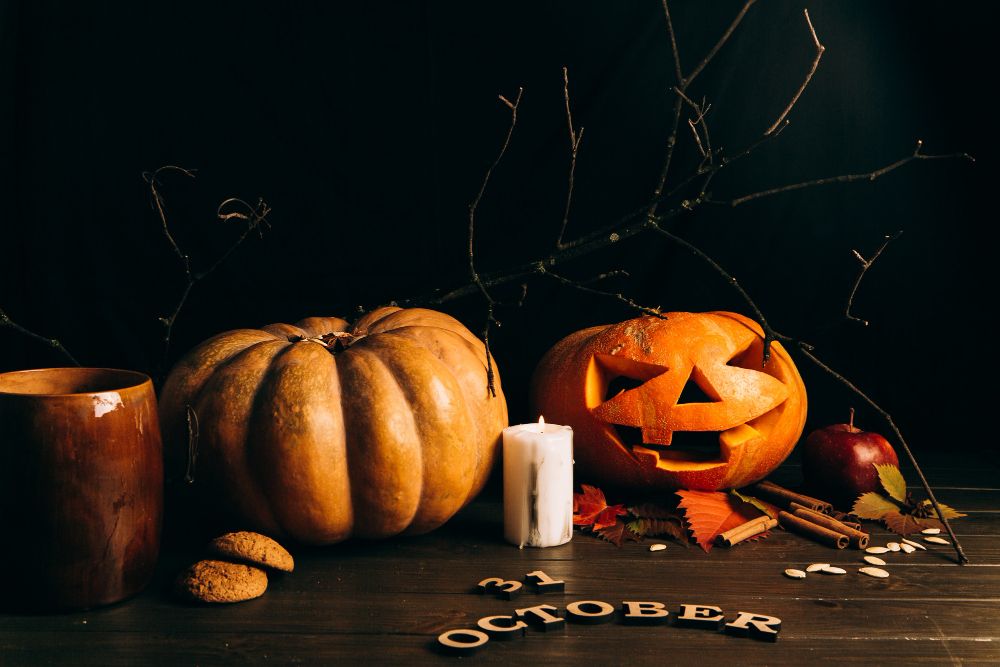 Conclusion
Feel free to embark on a journey of inspiration and endless experimentation to discover the perfect dining room table decoration that will enchant your customers. Transform the style and ambiance of your dining area as many times as you want to craft an extraordinary dining experience just for your clients. Be open to adapting based on your customers' valuable feedback and suggestions.
Creating an environment where customers see beauty, happiness, and coziness is paramount. Embrace the opportunity to infuse your space with the enchanting elements of autumn. It is the best solution to elevate your establishment's atmosphere and leave a lasting impression. Imagine, every day, a non-stop fall dinner party with warmth and delight.
Blend offers the opportunity to fully dedicate oneself to the creation of impressive restaurant decor, allowing for the development of visually striking and captivating ambiance. Blend provides users with the opportunity to access a highly impressive employee scheduling application on their mobile devices, while also offering comprehensive task management capabilities.