Crafting Effective CVs for the Food Industry: Bartenders, Chefs, and Managers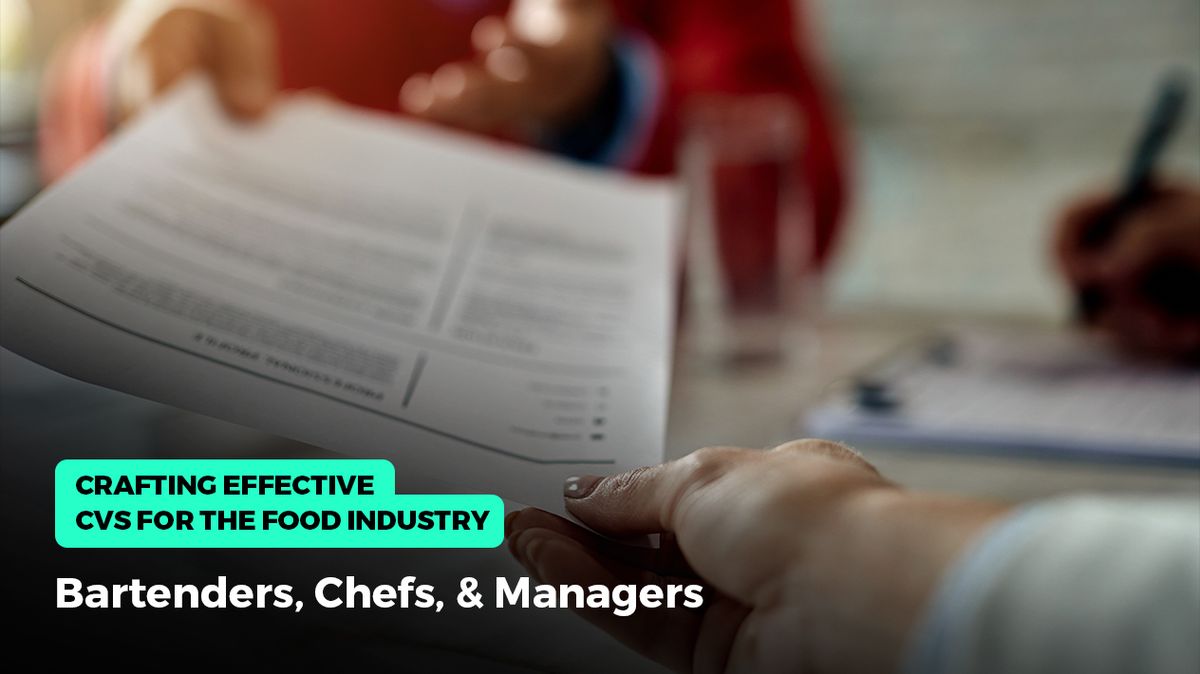 When submitting a job application, we should have a curriculum vitae (CV) that is well-written and tailored to the position we seek. Therefore, writing and creating a well-written and pertinent resume is necessary to succeed in the food industry. Moreover, the food industry is one of the most competitive and demanding industries, so we need to be extremely cautious with our CVs.
In the past, a curriculum vitae was not required in the food industry, whereas it is now vital in nearly all fields. The objective of the CV is to pique potential employers' interest and encourage them to get in contact with us, view our techniques, and learn more about us and our professional skills in general. If you wish to learn more about a successful CV in the food industry, this article will help you shape your CV or determine how to dispose of your current CV.
Understanding the Food Industry CV
Whether you are already a professional or not, you should remember that the CV you present to a restaurant manager or an employer unfamiliar with your experience functions as an introduction. You can distinguish yourself as the best candidate by writing about your professional experience and emphasizing what they want to hear.
Remember to use bullet points to emphasize your roles, major accomplishments, and any quantifiable results when describing your professional journey, like you increased a restaurant's sales or improved its reputation.
Consider including personal experiences relevant to your role if your resume lacks relevant professional experience or if you're seeking to stand out. For instance, given you have volunteered at community events where food was prepared, this demonstrates your passion and dedication.
Consider mentioning any workshops or seminars you've attended or hosted, as this demonstrates your commitment to lifelong learning. Incorporating these experiences into your resume not only enhances but also provides a more complete picture of your skills and commitment.
Your CV should demonstrate your passion for food, drink, coffee, etc. (depending on the position you seek), as well as your skills and experience. It should demonstrate your accomplishments and be consistent with the job description. In other words, if the job description specifies specific skills, etc., as prerequisites, and if you possess them, it would be prudent to tailor your skills accordingly.
What should I include in my CV?
You should emphasize particular elements in your CV to make it more appealing to recruiters for each position you seek. So, if you are seeking a position as a chef, a bartender, or, even as a manager, the sections below will outline the qualities, skills, and credentials you should highlight.
What should I include in my CV as a Bartender?
Work Experience
First, you should emphasize your work history in various establishments (such as bars, nightclubs, or fine dining restaurants) if you have such experience. This will demonstrate to your employer that you are adaptable and can work effectively in these areas. It will also indicate that you have a diverse knowledge of drink recipes, wine pairings, and beer varieties, as different establishments may require other drinks.
In the experience section of the CV, you should also include the title of your position and the places where you have worked, and then, using bullet points, elaborate on the points above. Since the vast majority of businesses use point-of-sale (POS) systems, it is to your advantage to have experience with them.
In terms of experience, it is also beneficial to highlight the special events or promotions in which you have participated or that have occurred in the stores where you work and to which you have responded. Why not emphasize on the fact that you had to serve 300,500 people, for instance?
Skills
Customer service excellence is a crucial skill and qualification for professionals that you should emphasize in your resume. For example, speed and accuracy in preparing all types of alcoholic beverages, as well as a thorough understanding of their flavors. Ability to multitask during shifts, as well as cash handling and sales skills, such as promoting a specific beverage to customers based on their requests.
Educational background
In your training, you should emphasize on your service training, barista or mixology courses, and beer or wine certification courses. These educational opportunities provide superior dependability and the impression that you are continually developing and advancing in the eyes of the employer.
The preceding also applies to baristas with any modifications. Here, you should emphasize your passion and devotion to coffee. If you seek a position that combines these specializations, create a balanced resume highlighting your qualifications for both positions.
What should I include in my CV as a Chef?:
Work Experience
There are not many different elements that the chefs should demonstrate. During work experience, it is beneficial to show specialization. For instance, in which cuisine do you specialize? French? How about Italian? If, for example, the restaurant you are targeting specializes in French cuisine, your previous work experience should be focused on French cuisine. Experience in various settings (hotels, restaurants, catering, etc.) should also be mentioned.
In this manner, you demonstrate that you are a persistent individual who never gives up. Even better is to show your expertise in menu creation and innovation. That is, how much you contributed to a menu in the past, how you altered a restaurant's dishes, whether you contributed to the day's specials, etc.
Whatever you have done that demonstrates that you are a person who constantly tries and never gives up should be reflected in your resume summary of your experience. In addition, it is beneficial if you have ever trained new employees in a restaurant or the workplace.
Skills
Culinary techniques and skills should be highlighted first because they are essential. Do you specialize in a particular field? In what particular cooking style? Then, you should emphasize it in your resume. In addition, it is always advantageous to highlight knowledge of food safety and sanitation practices on a resume, so be sure to do so if you have it.
Regarding the menu, being familiar with Menu Pricing and Budgeting is beneficial. If so, it is preferable to emphasize this on your resume. Alternatively, this is your chance to shine if you have experience and expertise in managing kitchen staff. In addition, training and managing staff demonstrates that you possess valuable soft skills such as patience, communication, crisis management, and stress management, among others.
Educational background
In training, it is advisable to include (if you have) a Culinary arts degree or diploma, seminars on food in specific kitchens or techniques, as well as Safe food handling or other certifications if you also possess these qualifications.
What should I include in my CV as a Restaurant Manager?:
Work Experience
Regarding the manager position in a restaurant or the food industry in general, your work experience should demonstrate the types of establishments you have managed. Whether or not it is directly related to the position you seek, proving that you have managed a business and achieved success is beneficial. Primarily, it is even better if it is associated with the food industry.
It is still important to highlight all your responsibilities and accomplishments, but one of the most critical is how you handled scheduling and employees. Blend can assist you with this. You can also highlight the introduction of a new menu, promotional events, renovations, and initiatives to improve customer service and feedback.
Skills
Leadership and team management should be the focus of your highlighted skills. Communication, strong organizational and interpersonal skills, discipline, conflict resolution and problem-solving, financial management, and vendor and inventory management are examples of such abilities. Unique skills that demonstrate your value to an organization and your ability to resolve crucial problems.
Educational background
Regarding your education, it is advisable to include a degree in the tourism profession and a degree or diploma in hospitality management. Mention any restaurant management certifications or courses you have completed, if applicable.
As mentioned to the chef, it is also beneficial to highlight soft skills such as teamwork, communication, adaptability, and resilience for all positions. In addition, awards, recognition, and specialized training can strengthen a CV. It is essential to tailor the CV to the specific requirements of the job advertisement. If a skill or qualification is frequently mentioned in the job search or postings, emphasize it on your resume if you possess it.
The structure of a CV
Creating a standout CV for the food industry is essential to making a lasting impression. Even if you choose to create your CV with a CV builder or using professional CV templates, there is some main information you need to use in your CV outline.
Here's a breakdown of the ideal structure of a standard curriculum vitae format:
Contact Information
Full Name
Phone Number
Email Address (Use a professional-sounding email)
Address
2. Professional Summary
A professional summary is a concise, three to four-sentence overview of your career. It is a solid assertion of who you are, what you've accomplished, and what you hope to accomplish in the food industry. You can include your career goals or an accomplishment you have achieved.
3. Work Experience
List your jobs in reverse chronological order (most recent first).
Job Title
Company Name & Location
Dates of Employment
Responsibilities & Achievements: Use bullet points for clarity. Highlight all the information we discussed earlier.
4. Education
Degree (for instance, your culinary school)
Institution
Graduation Date
Professional Certifications
5. Skills
List skills pertinent to the food industry and the specific role you're applying for, as discussed earlier. Don't forget to include your soft skills.
6. Additional Sections
You can also add additional training and skills like languages, volunteer work, research projects, conferences, etc.
7. Don't forget to send your CV with a cover letter.
Conclusion


Whether you use ready-made CV samples or create your own, remember to fully convert your resume to PDF format before you send it and emphasize your professional experiences.
Additionally, you can create two or three CVs with different structures, relevant experience, etc. and send them alongside cover letters to determine which will have the most significant impact. A perfect resume requires time to create and, most likely, constant revisions.
Best of luck!