7shifts Alternatives to Consider: To Enhance Employee Scheduling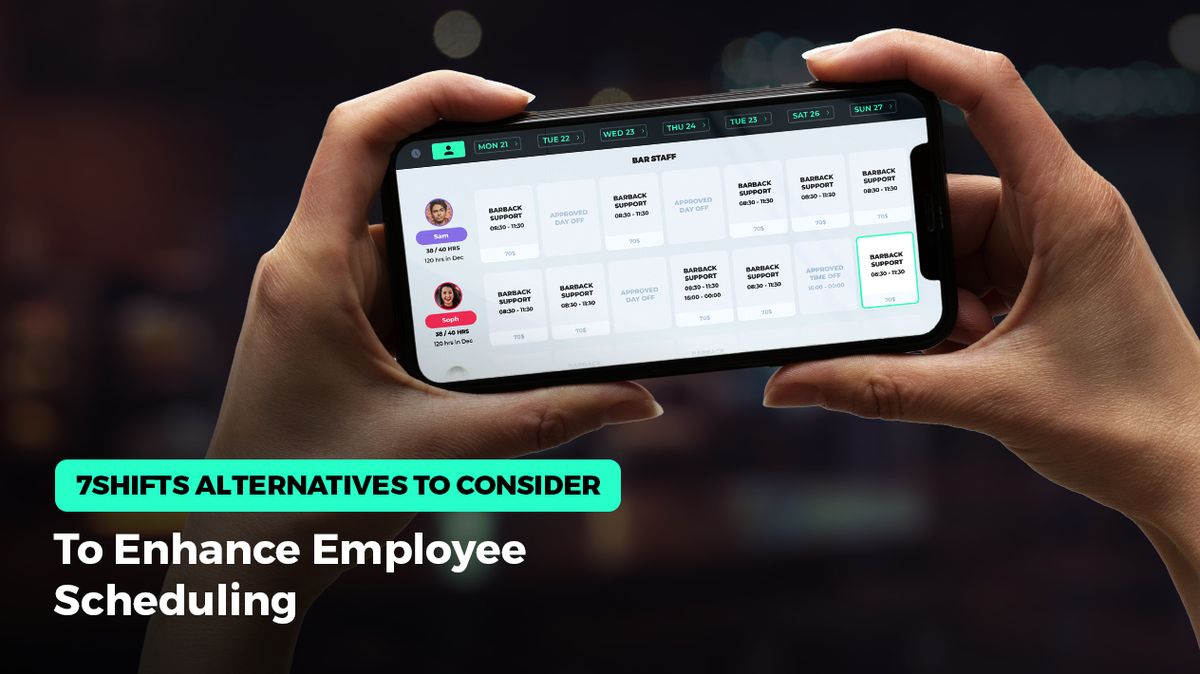 7shifts is a software for the hospitality industry, providing numerous team management tools, including scheduling and task management. Its main goal is to assist businesses in managing staff and administrative duties. It is a comprehensive solution for hiring, scheduling, paying, retaining, communicating with employees, monitoring vacation requests and employee availability, and calculating labor costs. In addition, 7shifts includes integrations with standard point-of-sale and payroll services and automatic shift reminders. It aims to make it easier for managers and employees to track shifts and adjust their availability. However, there are 7shifts alternatives that deserve to be noticed.
Some of the most promising alternatives to 7shifts for workforce management include Blend, HotSchedules, Sling, Jolt, When I Work, Deputy, and Restaurant365.
Some options listed above are intended solely for the food service industry, while others are intended for a broader audience.
7shifts pricing
7shifts offers flexible pricing tiers that are built around a variety of manager-centric features. Since this is the case, it may be too limiting for some companies. Some of the 7shifts' rivals use the same business model, while others charge different rates depending on the number of employees while providing the same services.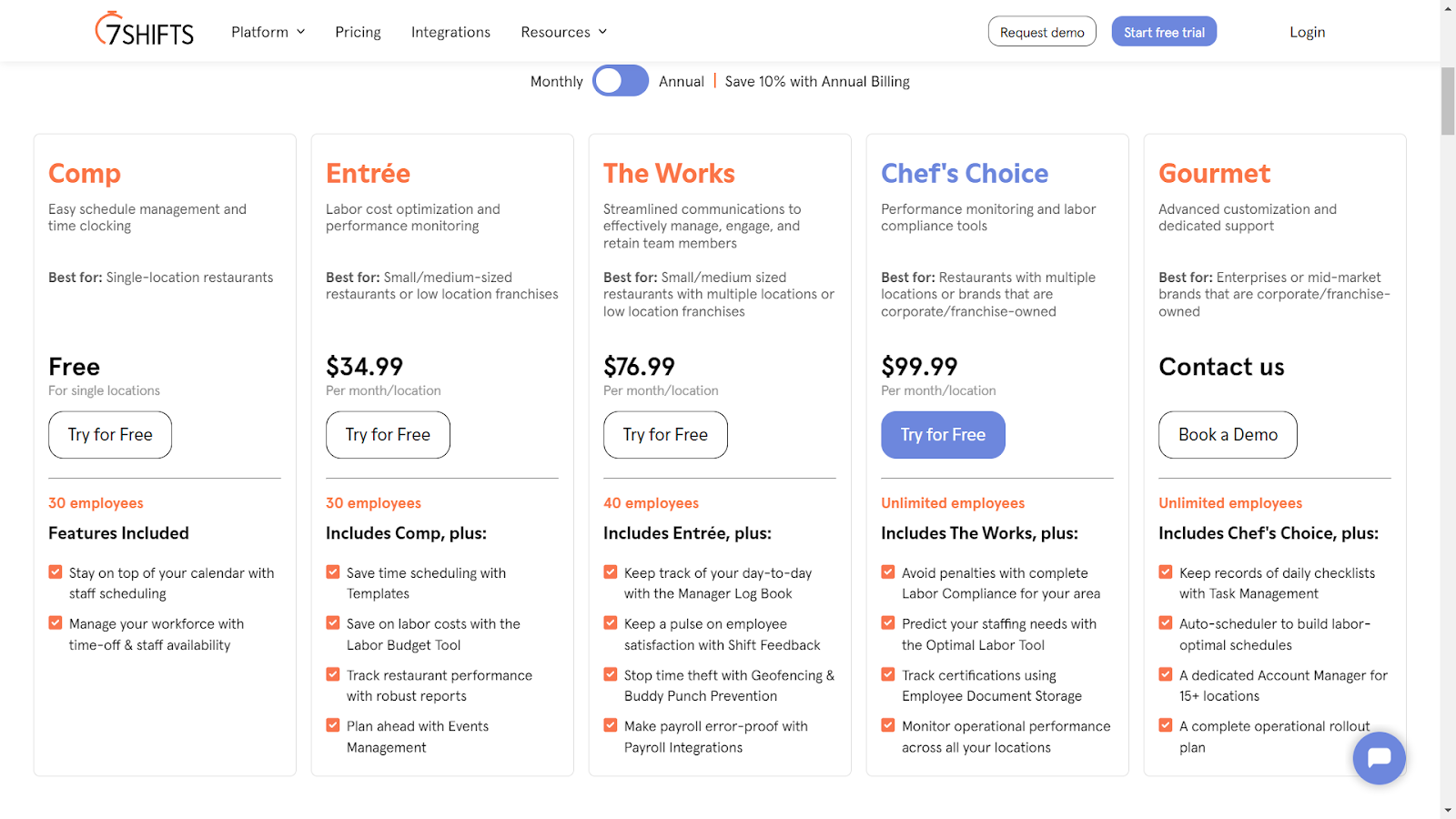 All of the costs above are recurring each month. 7shifts provides a free package for up to 30 users, although it provides only modest benefits to the adopting company. 7shifts may be among the most influential names in the business; however, its rivals have exploited some of its weaknesses.
7shifts alternatives: Comparison Table

The Best 7shifts Alternatives
Blend: Best all-in-one alternative overall.
HotSchedules: Labor needs prediction and schedule adjustment accordingly.
Sling: Time clock in and out feature.
Jolt: Real-time notifications.
When I Work: Integrations with payroll and HR systems.
Deputy: HR system integration.
Restaurant365: Restaurant management tools.
What is the Blend app?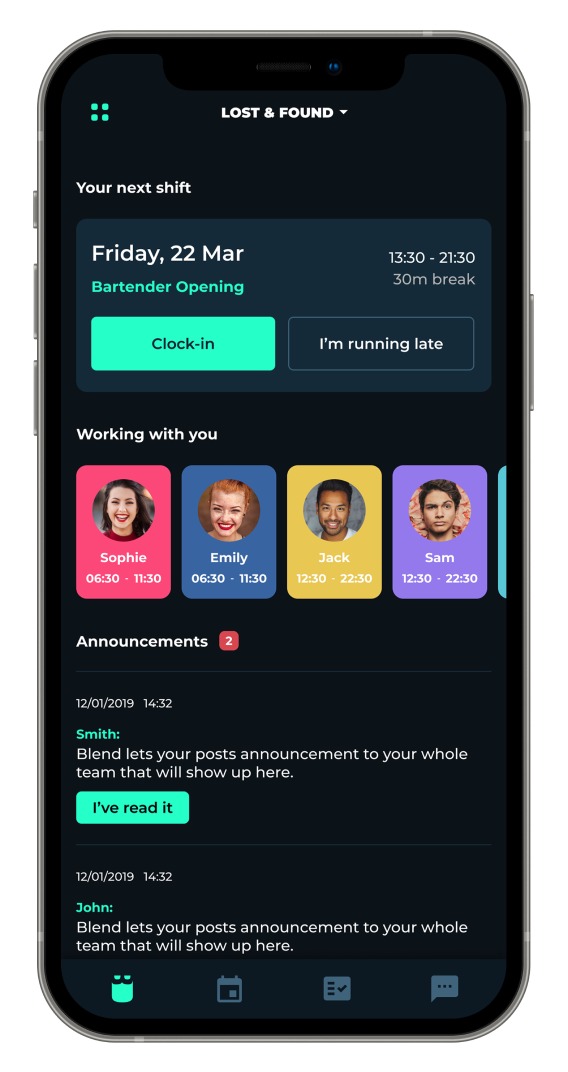 Blend is an employee scheduling and shift planning app for restaurants and the food and beverage industry. It is a platform that simplifies scheduling and ensures managers have the appropriate number of employees.
Blend is the ultimate app to help users manage their workforce, control labor costs, simplify compliance, boost productivity through their work, and track attendance and working hours.
The app includes a drag-and-drop scheduling tool, team communication, shift swapping, leave management, and real-time reporting, among other features. As a result, it is a scheduling software ideal for hospitality companies, regardless of the business's size.
Blend includes a messaging feature, allowing managers and employees to send and receive messages within the app as one of its communication channels. With its modern user interface, this feature enhances quick and straightforward employee communication, making it ideal for time-sensitive or urgent matters. So, human capital management can better build employee schedules and communicate with staff whenever needed.
In addition, Blend offers a shift feedback feature that enables employees to provide feedback on their shifts and allows managers to address any issues promptly. This feedback loop can facilitate better communication, a more collaborative workplace, and better attendance management. Blend can also notify employees before their shifts. Moreover, employees can easily swap shifts and find the one that better matches their program.
Last but not least, Blend has a payroll provider, which is also an essential asset. Blend gives companies a complete breakdown of each employee's schedule, their shifts, and how many hours they worked to optimize their reporting and improve payroll efficiency.
Businesses can use Blend on a mobile device and Mac. A Windows version will be launched soon.
Blend Best Features
Free scheduling for up to 5 team members with all features included.
Automatic schedule generator to avoid overtime, leave management, and shift change requests are available (shift swap).
Payroll integration into the app for better response to employee requests without other apps downloaded. This system reduces payroll processing time and errors.
Only available for mobile devices.
Blend Software makes employee scheduling easy for restaurants. Managers can create schedules using labor forecasts, track employee availability, and make real-time changes.
Blend Pricing
Blend is one of the few software programs that offer all services for free (with all features included) to businesses with at least five employees. In addition, blend's pricing policy is generally not based on the features a company will purchase but on the number of employees, setting it apart from other companies. Therefore all businesses benefit from the same superior services.
The difference between the plans is the number of individuals. Thus, for 1 to 5 individuals, it is free.
Up to 20 users are €35/ month
Up to 35 users are €53/month
Up to 50 users are €70/month.
A customized plan is also possible and is constantly developed in consultation with the Blend team.
How does Blend compare to 7shifts as a competitor?
What is the HotSchedules app?
HotSchedules is a labor management and scheduling application for different industries, such as restaurants, hospitality, and retail. It offers a unified platform for employee scheduling, time tracking, attendance monitoring, task management, and communication.
HotSchedules enables managers to easily create and modify schedules, reducing the likelihood of over- or understaffing.
Additionally, the platform provides tools for tracking labor costs and optimizing labor scheduling to assist businesses in reducing expenses and maximizing profits.
HotSchedules also includes shift trading, time-off requests, and automated shift reminders, which makes it easier for employees to manage their schedules and communicate with managers. Hotschedules is one of the tools powered by Fourth, making it an integral part of an ecosystem that combines workforce management, HR management, and inventory management.
Hotschedules Best Features
A complete approach with different features provided by Fourth.
Payroll integration for better response to employee requests.
Only available for mobile devices.
Shift change requests are available.
Employee self-service capability.
Hotschedules Pricing
The basic plan costs $2 a month per user, including shift reminders and basic messaging.
The essential plan includes some of these features, like time and attendance tracking, labor forecasting, and reporting are just some of the features, which start at $4 per user per month.
Plus Plan: Priced at a minimum of $6 per user per month, including inventory management and recipe costing for everything included in the Essentials plan.
The Enterprise plan is geared toward more substantial enterprises and offers flexible pricing and features to meet each customer's unique requirements.
It's worth noting that these costs could change depending on the specifics of each company.

How does HotSchedules compare to 7shifts as a competitor?
What is the Sling app?
Sling is a web- and mobile-based application that assists businesses in managing employee schedules, time-off requests, and communication through push notifications. With Sling, managers can create and distribute programs, track attendance, and make real-time shift adjustments, giving them a better approach to employee shifts.
Additionally, the app enables employees to request time off, swap shifts, and communicate with each other and their managers. The features of Sling intend to simplify the scheduling process, reduce errors, and enhance communication between managers and employees, providing better attention to the significance of workforce management.
Along with its scheduling and communication tools, Sling provides features such as task assignment, time tracking, and performance metrics. It is possible to access premium features for a monthly subscription fee. Sling's online scheduling capabilities allow managers to improve employee engagement and staff scheduling.
Sling Best Features
Free schedule with a limited number of features.
Payroll integration for better response to employee requests.
Great for plenty of businesses.
Shift change requests are available.
Employee self-service capability.
Sling Pricing
The price of Sling is calculated based on the features selected for the program and per user. The Premium package is estimated to cost $1.70 per employee per month, while the Business package, which is recommended, costs $3.40 per employee per month and includes all Sling features.
Thus, while one employee appears to cost less, it is possible that if the company is large, the amount the business will need to pay will be significantly higher than it seems.
What is the Jolt app?
Jolt is a software platform that provides business operations management tools such as inventory management, scheduling employees, and managing tasks. Because the application can be accessed from any device with an internet connection, it is convenient for managers to monitor and manage their establishment from any location. The goal of Jolt is to streamline restaurant operations and increase their efficiency so managers can focus on delivering an outstanding experience for their place.
The product offerings of Jolt serve as the foundation for the company's business solutions. Because of these products, Jolt can provide solutions that meet the demands and requirements of all businesses.
For example, only when all Jolt operations execution software products are used together, team accountability, digital food safety, and employee performance can be achieved. These are the goals of Jolt, which develops software products to produce positive results for every business owner.
Jolt Best Features
Task management and employee scheduling are provided for different devices.
Inventory Management to generate reports to analyze usage and waste.
Digital checklists for daily tasks audit.
Started for restaurants and now reaches plenty of other businesses.
Clock in and clock out potential.
Jolt Pricing
Jolt's pricing structure has three distinct steps:
This package is great for startups that have modest needs right now. For $59 a month per location, companies can access digital checklists, task management, and fundamental monthly reports.
Extra features are included in the Plus Plan, making it a good choice for rapidly expanding businesses. For an additional $99 per month per location, the Starter Plan can be upgraded to include time and attendance tracking, advanced reporting, and scheduling capabilities.
For more substantial businesses, the Enterprise Plan provides access to tailored services and support according to the company's needs. Forms, integrations, and dedicated support tailored to every business's needs are available for an additional fee.
Payments in Jolt are made annually instead of monthly.
How does Jolt compare to 7shifts as a competitor?

What is the When I Work app?
Time and attendance can be easily monitored and planned for using When I Work, a software developed to facilitate more efficient time and attendance tracking in the workplace. Managers can keep track of their teams' schedules, shift changes, and vacation requests in one convenient app.
When I Work, features include shift trading, mobile clock-ins, automatic shift reminders, and drag-and-drop scheduling, just to name a few. The app can be accessed from any internet-connected device, such as a laptop, desktop computer, or mobile phone running iOS or Android.
Organizations of all sizes and types, including those in the manufacturing and medical sectors as well as retail and hospitality, use When I Work. In addition, many businesses with shift-based workforces use this method to reduce employee misunderstandings and scheduling conflicts.
When I Work Best Features
Easy scheduling: When I Work's employee scheduling by dragging and dropping shifts, copying weekly schedules, and notifying employees of changes.
Clock in and clock for attendance tracking with the geofencing ability to restrict clock-ins to specific locations.
Great for plenty of different sectors and businesses.
Shift trading to reduce scheduling conflicts.
When I Work integrates with many popular payroll and accounting software programs.
When I work Pricing
When I Work software offers two main packages based on the features a company needs.
The standard starts at $2,50/user/month for workplaces that want better productivity and flexibility from a single, easy-to-use employee-focused scheduling platform. It provides shift coverage, time clock and schedule integration, team messaging all in one place, and high employee adoption and engagement.
The advanced version starts at $6/user/month for workplaces that prefer a total system with more features and automation that balances the needs of employees and management. Apart from the above features, the advanced model offers more powerful scheduling, top-rated tools and experience, engaging staff with flexibility and time tracking, and easy control of the labor budget.
Prices may vary based on employee count and business needs.
How does When I Work compare to 7shifts as a competitor?
What is the Deputy app?
Deputy is an app that helps businesses with scheduling, workforce, and human capital management. The app is a one-stop shop for time and attendance tracking, employee communication, and publication of work schedules.
With Deputy, businesses can create schedules based on anticipated demand, reducing overstaffing and overtime. In this way, companies can control labor costs. The app also gives managers continuous insight into labor costs, aiming to control costs better and prevent overruns.
With Deputy's payroll integration, businesses can easily and reliably pay their employees on time. The app streamlines the payroll process by automatically calculating hours worked, overtime, and any pay rate variations.
Deputy Best Features
Drag-and-drop for employee scheduling and pre-publish schedules, and automatic shift reminders.
Geolocation and IP address restrictions can ensure employees clock in from the right place.
Group messages, schedule reminders, and broadcast urgent messages through the app.
Share checklists, files, and images through the app.
Payroll and accounting software are integrated.
Deputy Pricing
Scheduling: $3.50/user/month with unlimited shifts/month, employee scheduling, auto-scheduling, POS integration, PTO & leave management, a news feed, tasking, and 24/7 email support.
Time & Attendance: $3.50/user/month with unlimited timesheets/month, payroll integration, POS integration, PTO & leave management, News Feed, Tasking, 24/7 Email Support
Premium: This $4.90/user/month with unlimited shifts/month, unlimited timesheets/month, employee scheduling, auto-scheduling, timesheets, payroll integration, POS integration, PTO & leave management, a news feed, tasking, 24/7 email support, reporting
Enterprise: Designed for businesses with over 250 employees and custom configuration needs, it provides everything in Premium plus some more features.
Deputy offers free software trials and paid add-ons. Payroll integrations, biometric time clocks, and custom branding are examples.
How does Deputy compare to 7shifts as a competitor?
What is the Restaurant365 app?
Restaurant365 is a scheduling software for restaurant management. To facilitate the creation and management of work schedules for restaurants, Restaurant365 has developed the Scheduling app.
Managers can easily account for employee availability, shift preferences, and labor needs when using the Restaurant365 Scheduling app. Moreover, managers can use the app to monitor and handle time off, shift trades, and coverage requests.
Managers can better allocate their budgets with the app's real-time data on staffing levels, overtime, and labor costs. In addition, the Restaurant365 Scheduling app integrates with other Restaurant365 modules like POS and payroll to further facilitate tracking labor costs and staff management.
Restaurant365 Best Features
Accounting and financial management: The app has accounting tools like general ledger, accounts payable and receivable, and bank reconciliation.
Inventory management: Restaurant365 allows real-time inventory tracking, automated reordering, and detailed food and beverage cost reports.
Recipe and menu costing tools are included.
POS integration syncs sales, menu items, and customer data with many POS systems.
Customizable reports and dashboards on labor costs, sales trends, and inventory levels.
Restaurant365 Pricing
Essential package: $435/month/location, billed quarterly
Professional package: $635/month/location, billed quarterly.
Custom package: Contact for pricing

How does Restaurant365 compare to 7shifts as a competitor?
Frequently Asked Questions (FAQs)
Below are some of the most frequently asked questions and their answers.
Q1. What Is 7shifts?
7shifts is a team management platform that assists restaurants and other hospitality businesses in organizing staff schedules and administrative tasks through features like shift scheduling and task management. It's a one-stop shop for managing your restaurant's human resources, from recruiting, scheduling, paying, retaining, communicating with,m keeping tabs on vacation requests to calculating labor costs.
Q2. Is 7shifts ideal for what businesses?
7shifts is an excellent fit for the hospitality industry, like hotels, restaurants, and businesses involved in tourism.
Q3. How Does 7shifts Work?
First, there is a free 14-day trial. After those days, the business should choose a program to continue operating 7shifts and reap its benefits.
Q4. Is 7shifts free?
There is a free program with a few features included for 30 employees.
Q5. Is 7shifts Still the Best?
Undoubtedly, 7shifts has built an intuitive platform that has become popular. However, the employee management scene has grown, and now various employee scheduling services offer the same or more targeted key features for shifting as 7shifts, with more affordable pricing.
Q6. What Is a Cheaper Alternative to 7shifts?
There are several more low-cost alternatives to 7shifts. Still, Blend is the best solution because it offers affordable employee scheduling that follows the growth of every business and doesn't deplete the company's budget. Furthermore, it was entirely created based on the food industry's needs.
Q7. What Is the Best 7shifts Alternative?
Blend is the best alternative to 7shifts because of its affordable pricing, intuitive interface, and scalability. However, other exceptional solutions such as HotSchedules, When I Work, Sling, Jolt, Deputy, and Restaurant365 are also viable options. Blend is an all-in-one app that solves serious problems without requiring users to install additional software.

Looking for an affordable and easy-to-use 7shifts option?
Even though 7shifts is widely regarded as the best platform for handling employee shifts and tasks, there are a number of viable substitutes.
Blend is the option that stands out as a great one. Get a free trial of Blend and try it out for 14 days.
Feel free to forward this information to your preferred marketer as well as comment below if you are aware of a service comparable to 7shifts that we missed.