Shift Planning Apps: Why We Love Them and Why You Should, Too!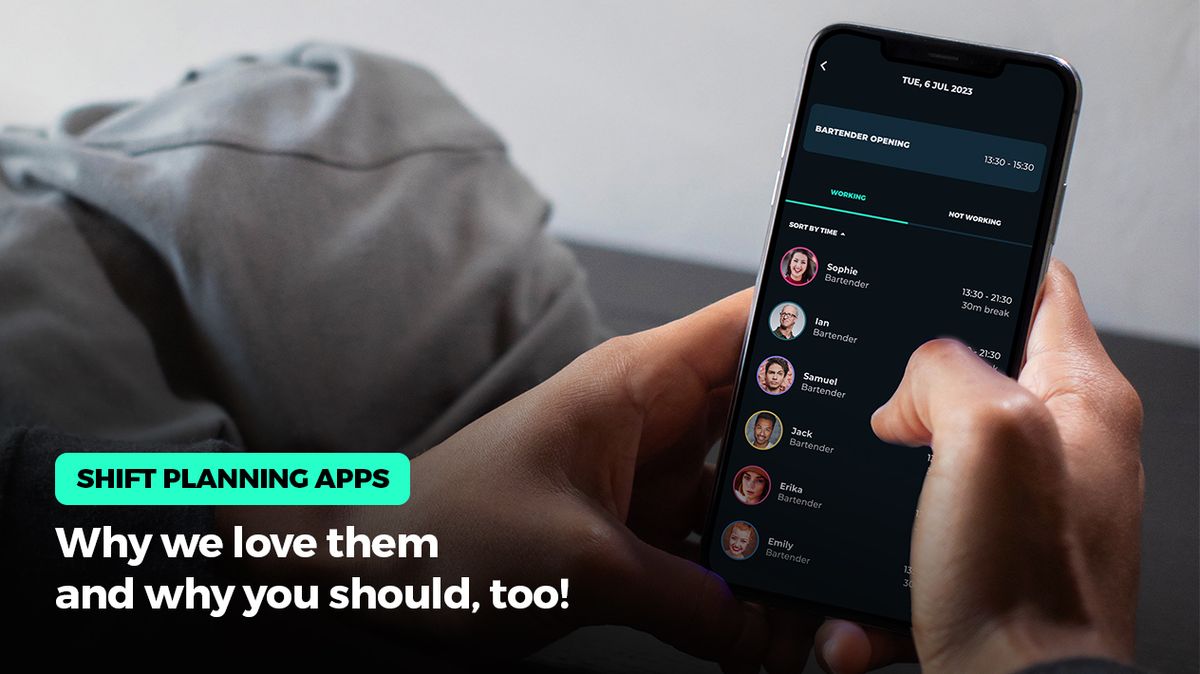 In today's fast-paced food industry, shift planning applications are essential tools businesses can rely on to improve performance and outperform the competition. However, those apps are not only crucial for the food industry since shift management is critical for any shift-based company. But why is employee scheduling important?
Shift planning applications are essential for shift-based work, as they manage the scheduling procedure, organization, and business structure based on business requirements. Scheduling software is critical for all organizations in which managers should schedule employees, regulate employee availability, and organize labor costs.
Do you still have questions about why you need employee scheduling software? Please continue reading the preceding section.
In this text, you will learn about the advantages of shift planning software, the most popular apps in the field, and how to choose the right shift planning app for your business. More importantly you will learn about Blend, an employee scheduling app, and its features.
The Benefits of Shift Planning Software
The greatest benefit of shift planning applications is their ability to facilitate scheduling. In addition to the food industry, managers in all shift-based businesses have a variety of responsibilities. Therefore, a helpful shift planning app for scheduling shifts and managing time off requests and shift schedules, will give businesses more time to devote to other crucial responsibilities.
Since all processes and shift scheduling is automated, saving time with scheduling software is a significant advantage. Employees can swap shifts to accommodate their programs– so no shifts are left unstaffed. In addition, employees can request time off, view available shifts, and communicate via the app.
Since each employee can access a work schedule created based on personnel requirements, the likelihood of errors is reduced. Moreover, managers have a complete view of labor data. Shift trade requests, open shifts, time tracking, employee attendance, and payroll processing are all digitized, and managers understand entirely every requirement.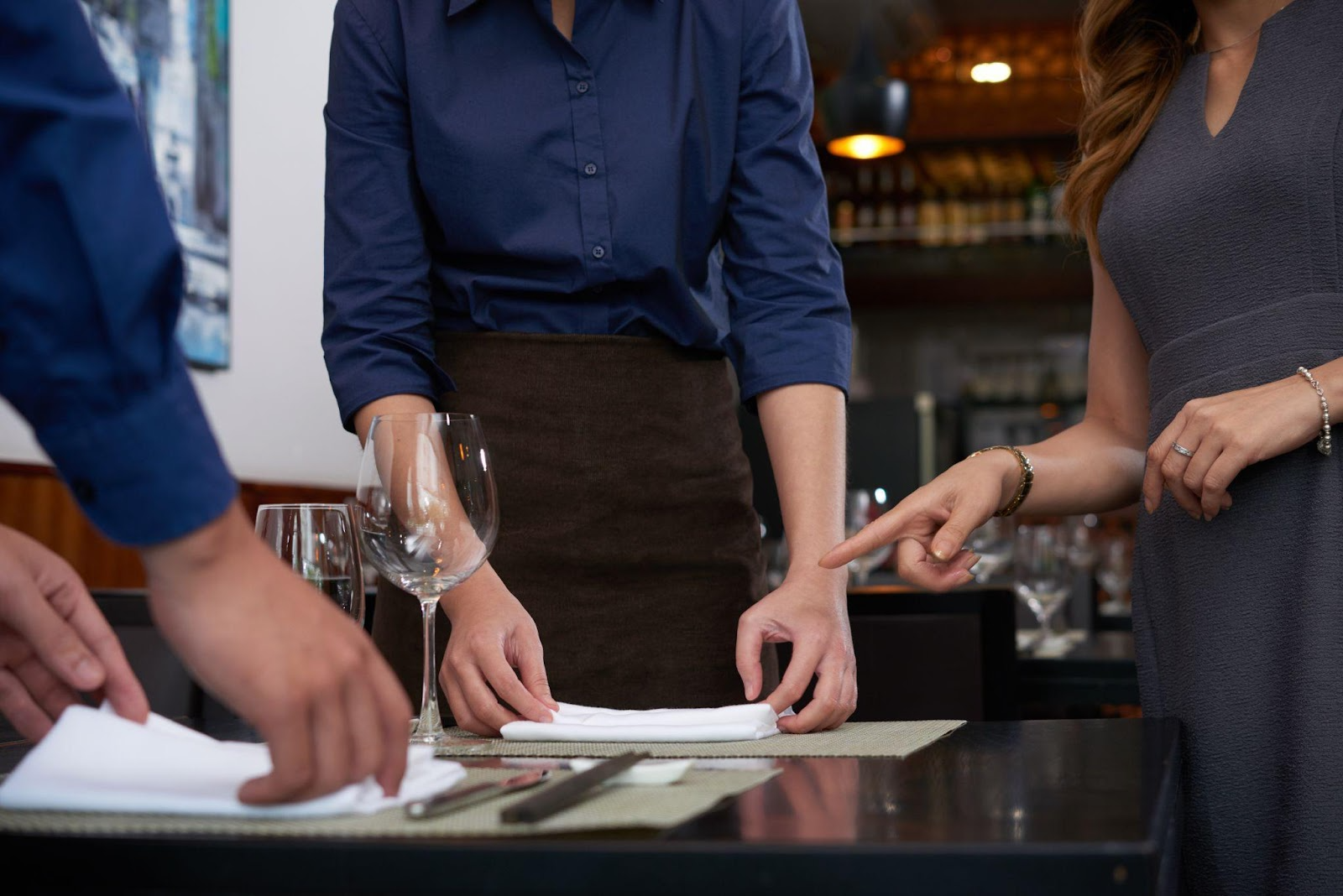 Popular employee scheduling software for the food industry
A vast amount of popular shift planning apps are on the market for the food industry, such as When I Work, HotSchedules and 7shifts. Those apps have great features for the food industry, and their pricing depends according to business needs:
When I Work is a workplace time and attendance software that makes tracking and planning easy. Managers can manage shift changes, vacation requests, and schedules on the app.
When I Work has shift trading, mobile clock-ins, automatic shift reminders, drag-and-drop scheduling, and any internet-connected device can access the app. It is available for every shift-based company that wants to reduce employee misunderstandings and scheduling conflicts. However, they have reported GPS problems with their location tracker.
When I Work software has two main packages based on company needs.
Workplaces that want a single, easy-to-use employee-focused scheduling platform starts at $2.50/user/month. It offers shift coverage, time clock and schedule integration, team messaging in one place, and high employee adoption and engagement.
For workplaces that want a complete system with more features and automation to satisfy employees and management, the advanced version costs $6/user/month. The developed model also offers more powerful scheduling, top-rated tools and experience, engaging staff with flexibility and time tracking, and easy labor budget control.
HotSchedules manages labor and scheduling for restaurants, hospitality, and retail. It integrates scheduling, time tracking, attendance tracking, task management, and communication.
Moreover, HotSchedules lets managers create and modify schedules, reducing over- and understaffing, easily. The platform tracks labor costs and optimizes scheduling to help businesses cut costs and boost profits.
HotSchedules makes scheduling and communicating with managers easier with shift trading, time-off requests, and automated shift reminders. Hotschedules software has three main packages based on company needs.
Basic messaging and shift reminders cost $2 per user per month.
The $4 per user per month essential plan includes time and attendance tracking, labor forecasting, and reporting.
Plus Plan: Includes inventory management and recipe costing for everything in the Essentials plan for $6 per user per month.
An enterprise plan for more prominent businesses also offers customizable pricing and features. However, companies need $2.99 to download the mobile app for every employee.

7shifts hospitality software offers scheduling and task management tools. It helps companies manage staff and administrative tasks. It integrates payroll, point-of-sale, and automatic shift reminders. Managers and employees manage shifts and availability.
7shifts provides flexible pricing tiers based on a variety of manager-centric features. Given this, it may be too restrictive for some businesses. Some of 7shifts' competitors use the same business model, while others charge varying rates. Therefore, for a lot of companies, 7shifts is costly.

What about Blend app?
Blend is a mobile app developed for the food industry to organize employee schedules and shifts. This ultimate tool helps managers save time and money by facilitating efficient scheduling. It is the best suited app for managing employees, cutting down on expenses, streamlining processes, increasing output, and monitoring time and attendance.
The app has several useful features, such as a drag-and-drop scheduler, chat, shift trading, vacation planning, and real-time reporting. Therefore, it is an excellent scheduling program for restaurants of any size.
Blend, a shift scheduling and employee management application can significantly increase productivity through shifts and schedules. By automating scheduling and shift management, businesses can save time, reduce mistakes, and boost employee satisfaction.
One of Blend's primary features is its ability to streamline shift scheduling. The application's managers can make schedules in minutes, and changes can be made quickly and easily. In addition, the app lets employees see their plans in real-time and submit vacation requests.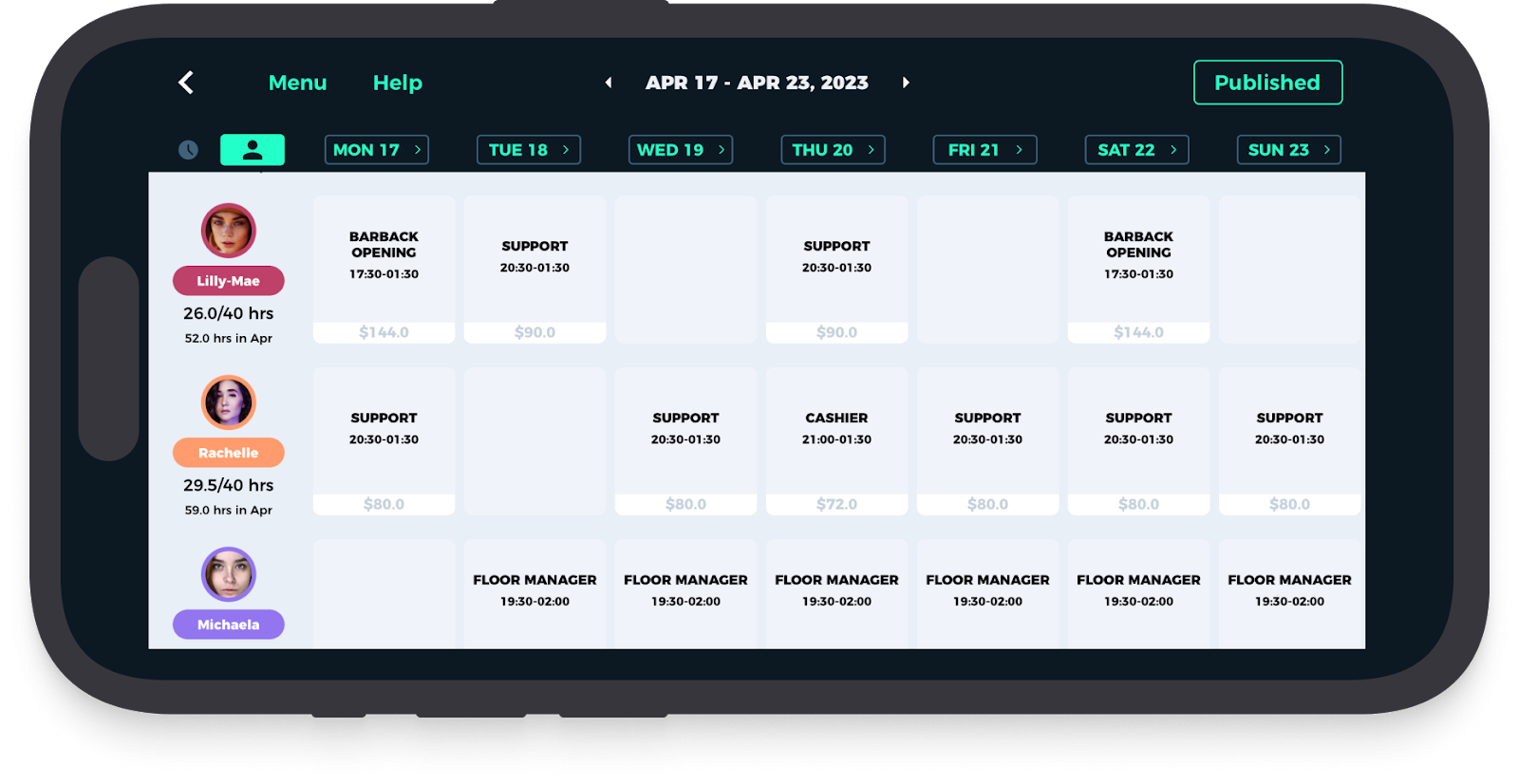 In addition to scheduling, Blend also simplifies handling time off. Employees can submit leave requests through the app, and supervisors can quickly approve or reject them. This enhancement simplifies the process of managing leaves, saving time for managers.
One of the ways that Blend facilitates communication between supervisors and employees is through built-in chat for managers to stay in touch with staff. With its sleek user interface, this feature is excellent for handling time-sensitive or urgent business communications among staff members. The ability to build a strong team and communicate effectively is essential to the success of any business.
Blend also has a feature called "shift feedback" that lets workers rate their shifts and gives managers immediate insight into any problems that may have arisen. This feedback loop can improve workplace communication, teamwork, and attendance tracking. Blend can also send out shift-start reminders to workers. In addition, workers can freely switch shifts to find the one that works best with their schedule.
Concluding, Blend has a payroll service, which is an invaluable resource. It gives businesses a comprehensive view of their employees' schedules, shifts, and hours worked, allowing for more accurate reporting and smoother payroll processing.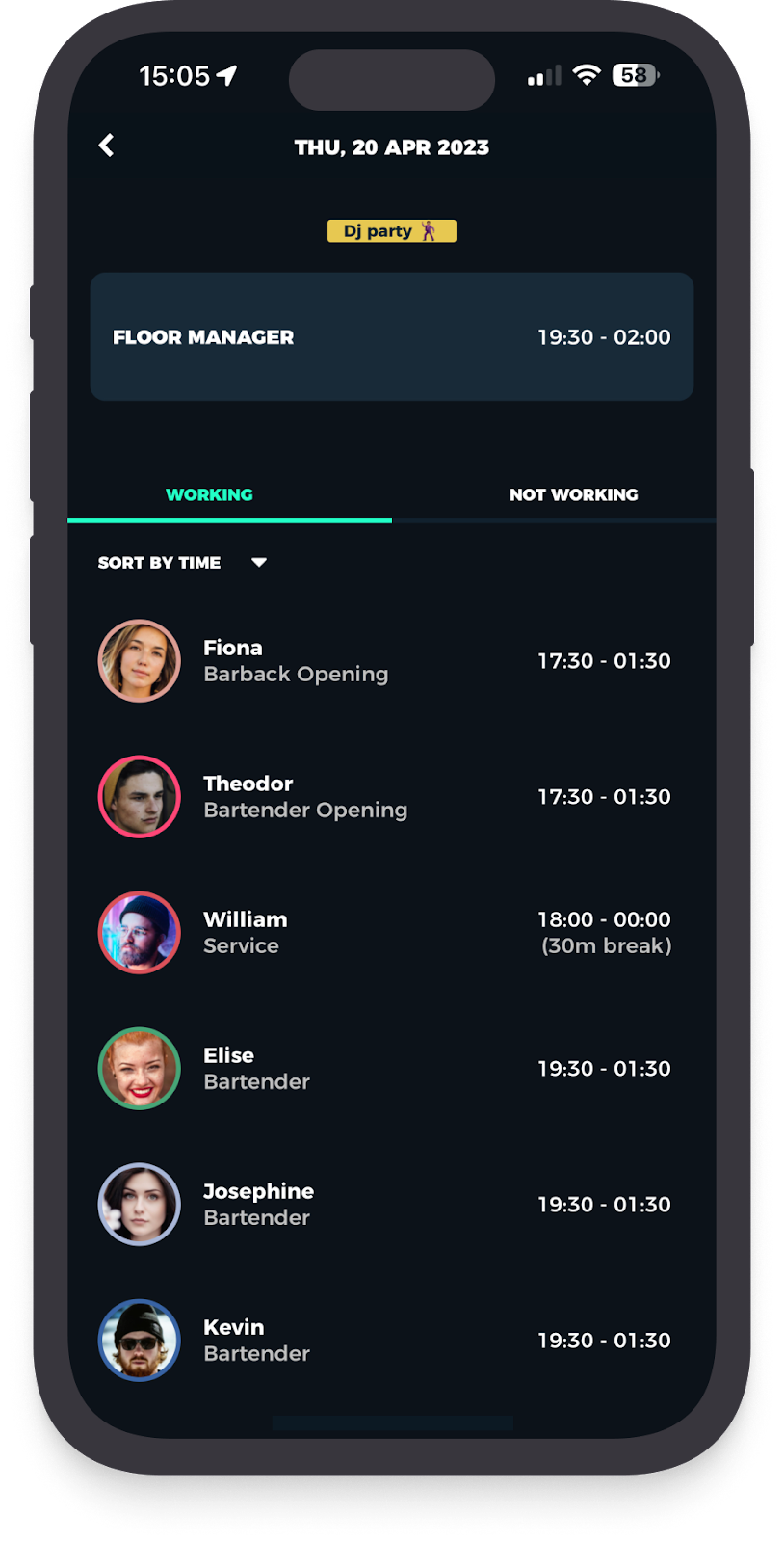 Blend Best Features
Free schedule for up to 5 team members with all features included
Automatic schedule generator to avoid overtime, leave management and shift change requests are available (shift swap)
Payroll integration into the app for better response to employee requests without other apps downloaded. This system reduces payroll processing time and errors.
Only available for mobile devices.
Blend Software makes employee scheduling easy for restaurants. Managers can create schedules using labor forecasts, track employee availability, and make real-time changes.

Blend Pricing
In contrast to most other software solutions, Blend provides all of its services to companies with five or more employees, utterly free of charge. Furthermore, unlike its competitors, Blend bases its prices not on the features a company will use but on the number of employees. This means that all companies receive the same high-quality support.

The number of people covered by each plan is what differentiates them. Therefore, it costs nothing for up to five people.
Up to 20 users are €35/ month
Up to 35 users are €53/month
Up to 50 users are €70/month.
A customized plan is also possible and is constantly developed in consultation with the Blend team.
How to Choose the Right Shift Planning App for Your Business
Shift planning is essential for the food industry. Appropriate shift planning software can aid in streamlining the process, reducing errors, and ensuring business continuity. Various shift planning apps are available, so it is challenging to select the best. We have compiled five tips for locating employee scheduling software.
Determine your company's size.
When selecting a shift planning application, it is essential to consider the size of your company. For instance, you may not need an app with advanced features such as scheduling templates, time tracking, and reporting if you have only a few employees. On the other hand, suppose you have a large business with many employees, you'll need an app that can handle complex scheduling requirements, manage multiple locations, and provide real-time communication.
Evaluate the complexity of your scheduling requirements.
The complexity of your scheduling requirements is another crucial consideration. Do you need to schedule employees for various shifts, departments, and locations? Are overtime, holidays, and sick leave required to be accounted for? Are you responsible for managing employee availability, time off requests, and shift swaps? These are all significant factors that will affect the shift scheduling app you choose.
Evaluate your budget
The price of the shift planning application is also an essential factor to consider. Others may require a monthly or annual subscription fee, whereas some apps are free or offer basic features at no cost. Before selecting an app, you should assess your budget and consider the long-term costs. While a more expensive app may offer advanced features and benefits, it may only be worthwhile within your budget.
Find essential attributes
When comparing different shift planning applications, look for key features that meet your organization's requirements. These may include scheduling templates, time tracking, automated shift assignment, real-time communication, and reporting. Some applications may also feature payroll integration, employee self-service, and mobile accessibility. Create a list of the most essential features of your business, and compare various applications based on that list.
Read user ratings and comments
Read user reviews and ratings before selecting a shift planning application. Reviews can highlight the app's usability, dependability, customer service, and overall performance. Consider reviews from businesses of comparable size and industry to understand better how the app will function for your organization.
It's time to explore more about shift planning apps and enjoy the recommended ones for your businesses. Blend is our all-time favorite! So why not download it for free for 14 days and run it for your whole business to understand its full potential?