Gen Z Customers: 5 Food Trends to Attract Gen Z to Your Restaurant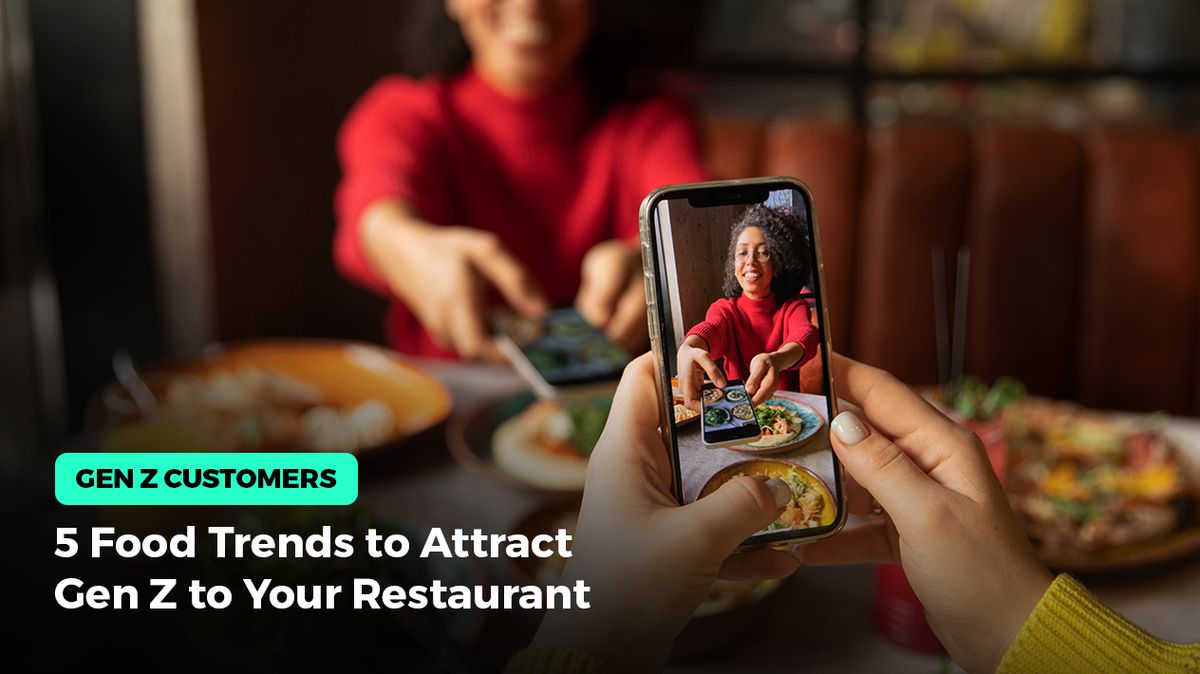 Gen Z customers possess characteristics that distinguish them from other age groups. To attract more people of this age group, you should examine their needs and the trends that define this generation in order to design your menu, your décor, and your business accordingly. However, other generations may share different trends, so it is prudent to first determine which customers you wish to attract and then adapt to them.
After the COVID-19 pandemic and the lockdowns, there has been an increase in the number of people who prefer to dine in restaurants. In particular, according to Gitnux, Americans spend 49% of the money on food allocated to eating out, representing nearly more than half of the money spent on food.
In contrast, 74% of millennial Americans ate out in the past week, a large and significant percentage given that millennials and Gen Z are valuable age groups for restaurants. Undoubtedly, the percentage of Gen Z will not be far behind, and you may need to adopt their preferred trends to attract them to your business.
Gen Z Characteristics
Gen Z is the youngest generation that follows the Millennials and precedes Gen Alpha; they were roughly born between the mid-1990s and the early 2010s, making them approximately 15 to 27 years old. Specifically, this text will focus on Gen Z diners, primarily employed adults and, therefore, independent. The following characteristics distinguish this generation:
They like going out and enjoy their time with friends.
They prioritize their mental health, but on the other hand, they are more anxious than other generations.
They were the first generation to use the internet from an early age, and they also utilized social media. (Like aesthetic content, commenting on the news, etc.).
So, based on the above, we will examine the 5 most significant Gen Z food trends to adopt in your restaurant.
The 5 most significant food trends to attract Gen Z customers to your restaurant.
Fast food and Street food
Gen Z, on the one hand, appears to prefer fast food and street food restaurants and this type of business, whereas there is a general trend towards healthier cuisine and a healthier lifestyle. The perfect combination for Gen Z customers is finding fast food or street food restaurants with vegan options or healthy, fresh, high-quality ingredients.
This goes against the initial concept of fast food and street food, but Generation Z has arrived to change these businesses and give them a healthier serving method. Consequently, despite this generation still enjoying fast food, it is beginning to scrutinize not only the production and preparation methods but also the raw materials, such as organic and natural foods, nutrients, free-range meats, etc.
With the increased popularity of street food, Gen Z customers also encountered food trucks and generally less fancy dining establishments. While street food is no longer limited to particular types and cuisines, many recipes not previously found in street food businesses are now adapted to fit street food. Moreover, Gen Z clients prefer these restaurants because they are primarily interested in the lowest prices without sacrificing quality or healthfulness.
2. Healthy food + Veganism
As stated, Generation Z seeks healthy menu options, frequently selecting salads and healthy snacks. Additionally, this generation searches for healthy recipes on social media platforms such as TikTok and YouTube and experiments with cooking, albeit with healthier options and flavors.
In addition, they make healthier choices when grocery shopping and reject foods they believe are detrimental to their health. Moreover, an increasing number of individuals of this generation claim that they would rely on a conversation with a registered dietitian nutritionist to improve their diet and make dietary adjustments to certain foods and food choices.
Generation Z has driven the vegan and plant-based food markets, and more than half of Generation Z has chosen to become vegan for health reasons, while others wish to combat climate change. On the other hand, 70% of Generation Z intends to adopt a vegan diet within the next five years. There are still relatively few members of Generation Z who are vegetarians or pescetarians.
3. Environmental sustainability
The primary concerns of Generation Z are environmental issues and climate change. Consequently, they frequently make decisions and act in accordance with environmental conditions and the field of sustainability. Environmental change is the primary reason most individuals choose veganism.
According to Food Insight, one-third of Generation Z indicated that sustainability impacts food and beverage purchasing decisions. In contrast, fifty percent of survey respondents agreed that their individual decisions to buy foods affect the environment and that they want to know where and how the foods they buy are sourced and produced to reduce the carbon footprint of each dish, for instance.
Moreover, according to the same source, Generation Z prefers plant-based alternatives to meat and animal products, and 19% of Gen Z customers claimed to have adopted plant-based diets to be sustainable.

4. Delivery
Delivery, particularly online, is one of Generation Z's favorite services. Specifically, Generation Z and Food Delivery Apps are permanently changing the restaurant industry, with 54% of Generation Z using an online ordering app monthly. Therefore, if you want to attract an increasing number of customers from this generation, you need to partner with multiple food delivery apps to ensure you can reach many customers.
Moreover, Generation Z customers prefer contactless ordering. They want to have the option of never interacting with a delivery person, and if the food can be left at the doorstep, even better.
Remember that Generation Z enjoys rewards programs, good food, and loyalty discounts, so you can implement such programs to attract Gen Z customers to your business or through delivery.
5. Food Social Media Content
Generation Z uses social media and follows trends. They enjoy sharing content on social media platforms such as Instagram Stories and TikTok, posting pictures and videos of their food, especially if it looks delicious and is beautifully presented on the plate.
Therefore, you should make your food and restaurant look incredible to attract Generation Z customers. You can attract more young customers when your plates are beautifully presented, and your restaurant's interior is tastefully designed. They may share photos and videos of your food and establishment on social media. When they do so, their friends and other members of their generation may become interested in visiting your restaurant. This means that more people will visit your restaurant and utilize your services.
Sometimes, Generation Z visits restaurants after seeing cool and trendy decorations on social media. They may have seen these decorations in photos of their friends or viral posts. To attract new customers, you can make your restaurant appear exceptional. Consider including elements such as a large piece of artwork on the wall or a creatively designed theme. In this manner, you will encourage more customers to take photos and share them online.
Conclusion
Gen Z is a generation that places mental health and environmental rescue first, enjoys assuming responsibility, and believes it can alter the past's damaging or harmful behaviors, including past food preferences.
Generation Z, in particular, is a diverse generation that enjoys purchasing products and supporting businesses that promote social responsibility because they are more productive and confident in their ability to effect change.
Therefore, if you are a food industry member and wish to attract more customers of these ages, you should implement the following trends. Wishing to adopt them, you can select those closest to your business ideas and plans and adapt your business accordingly. They value impressive and intense aesthetics, comprehensive dining experiences, and online delivery.
Some characteristics of Gen Z are shared with other generations and the general population. In contrast, other trends are expected to grow over time, such as the high percentage of vegans, which is expected to increase. No other generation was as knowledgeable about the environment and its improvement and willing to make changes to save it as the current one.